A former government Secretary insinuated the close connection between George Soros and Smartmatic owner might have impacted past local election results.
In a Facebook post, Secretary Rafael Alunan III accused the George Soros and Lord Mark Malloch-Brown could have rigged our election results in the past without the public knowing it.
The Hungarian immigrant has been described as "the single most destructive leftist demagogue" because of his reputation of overthrowing legitimate governments overseas and make profit from it. Source [Human Events]
The Hungarian-born billionaire American allegedly effected "regime change" using various strategies. Check out the image below. Source here.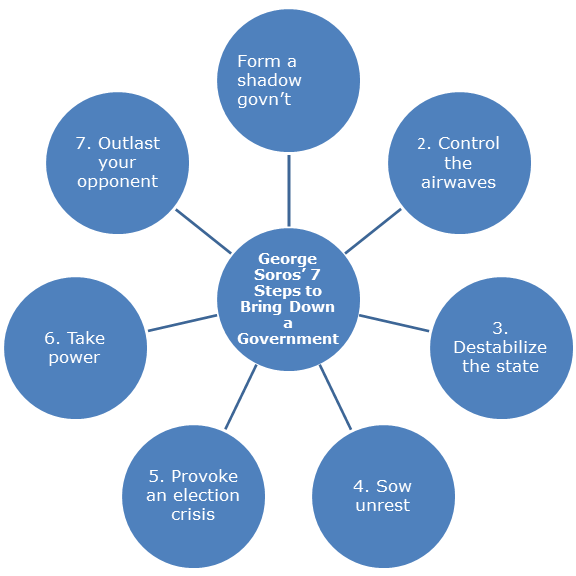 In light of this, I assume you are now armed with the knowledge to understand where the former DILG Secretary is coming from when he made the insinuation below.
"Putik! Merong koneksyon itong George Soros sa Smartmatic Gumagamit ng front o proxy o surrogate o cut-out. Stilong Mafia.
Smartmatic is owned by Lord Mark Malloch-Brown. He is connected to Soros through the Open Society Foundation, an organization that gives grants to civil society organizations around the world.
Malloch-Brown serves on the Open Society Global Board. Smartmatic says on its website, "George Soros does not have and has never had any ownership stake in Smartmatic."
Eh, ano? Hawak nya naman ang may-ari ng Smartmatic na ginamit pangdaya sa ating mga eleksyon noong 2010, 2013 at 2016. Sino ang nakapwesto sa panahon na yon? The difference is the same.
The connected dots now show who the regime change conspirators are, here and abroad. Don't forget the drug syndicates linked to them and assorted narcopoliticians."
Here's something that I find even more shocking shared by a commenter in Alunan's Facebook post;  Lord Mark Malloch-Brown used to be Cory Aquino's close in adviser and speechwriter.
Josephine Velasco alleged Smartmatic got the P1.7B contract for the 2016 elections and another P500+M for transmissions because of this connection with the Aquinos.
Your reaction please!