In case you missed it, the local media, including GMA News, has blown out proportion the tweet of the editor of Czech Radio Plus Pavel Vondra wherein he described President Duterte's appearance as "sloppy" for showing up at his meeting with the Russian PM with a loose tie.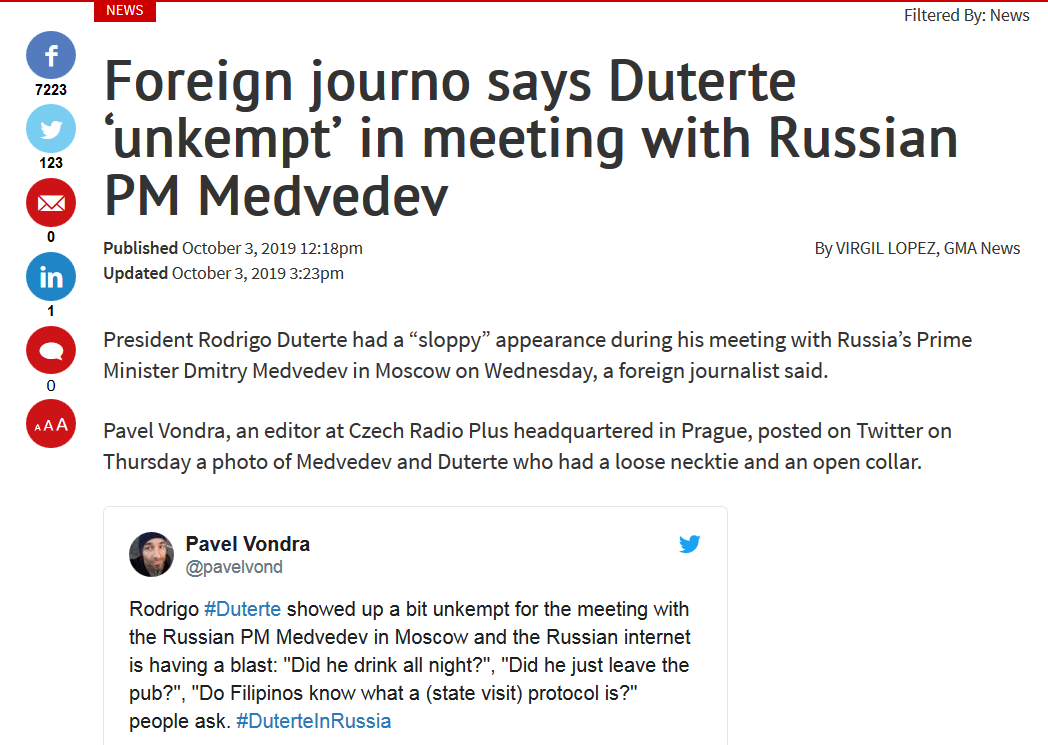 In other words, the local media picked up where Pavel Vondra left off and resume their anti-President Duterte tirade in the guise of reporting the tweet of Czech journo to pander to the 3% anti-Duterte crowd.
However, the news that President Duterte has been awarded by Russia a Doctorate in Diplomacy has given lawyer Trixie Cruz-Angeles the reason to gloat at the critics who were bashing President Duterte on social media calling him "unkempt, kahiyahiya and mukhang sanggano" but now have to eat their words in light of this development.
In a Facebook post, Angeles remarked that the President they called with unflattering names has just been awarded a Doctorate of Diplomacy.
Angeles stated that his clothes or fashion sense did not affect his success in getting the heads of state to sit and talk serious matters of trade and diplomacy.
Angeles reiterated the word "DIPLOMACY" for emphasis.
She said critics are comfortable with their tuxedos and can carry it well but Angeles asked, can they get an invite from Putin?
Yung tinatawag ninyong "unkempt" at kahiyahiya, at mukhang sanggano…
May doctorate sa diplomacy.
His clothes obviously did not affect his success in getting heads of state to sit and talk serious matters of –ahem– trade and diplomacy.
Uulit ulitin ko yung DIPLOMACY.
Kaya nyo sigurong magkurbata. Pero kaya ninyong magpaimbita kay Putin?
Netizen Innal Imahabta Angie Tamot commented critics can't attack his diplomatic skills so they nitpicked his manner of dressing up.
They can't criticize his diplomatic skills kaya sa pananamit nalang atty. As if PRRD cares naman😁😁
Netizen Boboy Rodriguez remarked that clothes is nothing if your hearts yearns for true peace.
Your Clothes is irrelevant, if your heart yearns for true peace democracy.
Netizen Loren Mae Tosita liked Atty. Trixie's caption. Pak na pak ang caption atty! 🤣

Your reaction?