On June 7 (sorry not 15?!) 2022, former DOTr Asec. Goddes Hope Libiran shared on her FB wall the quote card from Daily Tribute wherein young actress Andre Brillantes complained about getting subjected to online bashing.
According to Ms. Andrea Brillantes, there are many people who don't understand you. Though your intentions, many people will interpret it as the exact opposite.
In that regard, Libiran commented that she perfectly understood what Ms. Andrea Brillantes said. Very loud and clear.
At least, Libiran added, that for now we all know that her intentions was good when she asked where were our brains in older tweet.
Here's the brief FB post of Ms. Goddes Libiran.
Naintindihan ko naman 'yung sinabi niya noon. Loud and clear pa nga.
At least, now I know na good naman pala ang kanyang intention noong nagtanong siya kung nasaan ang mga utak natin.
Below is the screenshot of the now deleted tweet of Ms. Andrea Brillantes.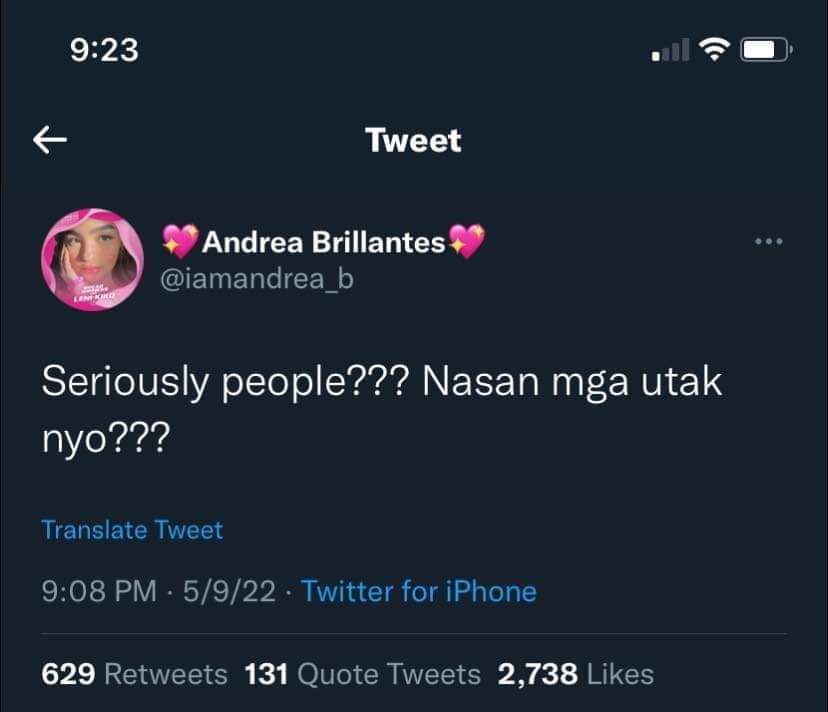 Here are some of the comments of netizens, ranging from giving nice advice to Andrea to expressing negative remarks towards the young actress.
One netizen hope Andrea can go back to school and get a degree. In addition, the netizen also urge the young starlet to refine character and read to have some knowledge too.
Andrea, you are young, I hope you can go back to school and finish your studies first, or pwede mo naman pagsabayin ang studies and acting, maganda ka na, iha…so refine your character na lang and read a lot so you can have some knowledge too!
A second slammed Ms. Andrea for asking if BBM supporters have brains as if she has brains too.
Makapag salita kung nasaan utak ng mga Tao, akala mo.may utak din..para nga lang kulang2x sa pag iisip kung magsalita.. pa baby effect.. baby talk pa more
.. saba Andrea ka yaya lang ng bugan nimu dayzzz
A third shared the moral lesson for Andrea to learn.
Moral lesson: THINK BEFORE U CLICK!!!…. Be AWARE, Be EDUCATED, Be SENSITIVE! Before saying anything, REFLECT upon d decisions u will do and how it may affect others….
Reaction?
Source: Goddes Hope Libiran