A brewing word war between Leni Robredo's biggest supporters on Twitter has caught the attention of Sass Rogando Sasot of the FB page "For the Motherland" prompting her to share the news to her FB followers.
Apparently, the infighting between the biggest supporters of Robredo because of impatience due to Robredo's tentativeness in making up her mind whether it's a go for her or not in the 2022 presidential derby.
Reading the tweets, it appears that veteran journo Philip Lustre is starting to grow impatient with Robredo's hesitation to decide whether she is running for president or not, prompting Lustre to take to Facebook to verbalize his impatience.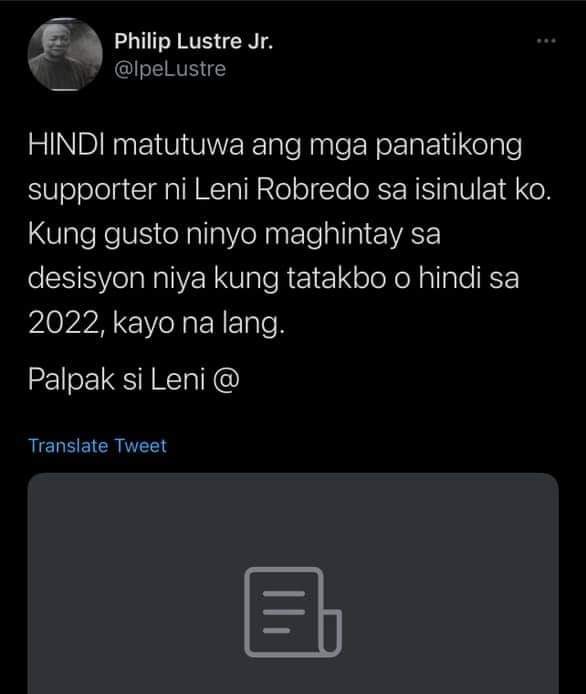 Jover Laurio @PinoyAkoBlog replied that if Lustre can't wait, he can now jump to Sara's camp and support her. Said she (Sara) has already expressed her intention to run.
Kung hindi makapaghintay, eh di lumipat Kay Sara. Yun nagpahayag na ng interest na tatakbo. Doon ka. 🙄 pic.twitter.com/bkzyaJvg0w

— PinoyAkoBlog (@PinoyAkoBlog) July 11, 2021
Sasot's FB post has been the source of entertainment among her FB followers, if judging by the 4,300+ netizens who hit the laugh emoji out of 5,400+ netizens who reacted on the post.
Of course, the followers of Sasot who are also Duterte supporters, majority of them, have mixed reactions on the possibility of Lustre jumping Sara Duterte's possible bid for president in 2022 polls.
"He is not welcome. We don't need such dull and irrational mindset. Team Pacquiao na lang siya," commented one netizen.
"On a sinking ship, the rats are the first to go,
" noted this netizen.
This netizen remarked that the infighting is a sign of the disunity in the Opposition camp. "Its really clear na yung opposition hindi nagkakaisa. Totoo talaga na mas maingay ang lata na walang laman. Haha
"
Another commented that he was not surprised. "Di na nakakapagtataka, ganyan naman ang mga panatikong tulad nila, sila sila nagsisiraan, nagbabatuhan ng putik pero pag nanalo na, bati bati na
Kakaawa ang mga ganitong tao, desperado nang makabalik sa kapangyarihan kaya sariling kalahi ay sinisiraan"
Another netizen could only speculate to make sense of what i happening in the Opposition camp. "Mukhang nadedelay na ayuda ng Liberal Party sa mga bayaran nila…."
"Kanya-kanyang self-destruct ah. Hahhahaha," chimed in another netizen.
Reaction?