"LIGHTS! CAMERA! ACTING!"
This is how US-based accountant/auditor Edwin Jamora reacted to news article regarding Yorme Isko Moreno breaking down in tears after he was called "maepal" by a netizen in a socmed rant.
On Facebook, Jamora wrote: "Napaiyak si Manila City Mayor Isko Moreno nang sagutin nito ang paratang na 'maepal'"siya.
Jamora can't help but laugh at Yorme Isko Moreno's antics or drama followed by his signature expression of disgust.
"Hehehehehehe! Tse!"
Meanwhile, netizens have a field day dissing and making fun of Yorme Isko Moreno for showcasing his acting talent to gain the sympathy of the public.
"Totoo naman. Bakit sya iiyak. Nasa script ba?" a netizen asked.
"Best actor!
" said another.
This netizen wondered what will happen if he becomes president and the criticism are far more worse than the the "maepal" criticism.
"Kung ganyan pa lang na naiiyak na sya, paano pa kung maging presidente baka nag lulupasay na! Pero syempre hindi magiging presidente."
Another netizen asked of Yorme won an acting award before since he noted that the tears flowed on cue.
"Nanalo ba siya ng any award as an actor before? Infairness ha mabilis yata lumabas luha
o nakakaiyak lang talaga yorme kasi nasampal ka ng katotohanan na MAEPAL ka talaga?
"
Weak said another netizen. "Mahinang nilalang… naiyak ka na sa ganyan?Paano nalang kung makaharap mo ang malalaking problema ng bansa edi naglulupasay kana ahaha! Wag kami yorme
"
Another said Yorme's acting skills come in handy. "This boy yorme is using the skills he learned from that's entertainment. he is entertaining!"
This netizen rebuked fellow netizens for calling Yorme "maepal" that's why he cried. Instead, the suggested calling Yorme something else. "Kayo naman kasi tinawag nyong MA EPAL. Dapat tinawag na MA DRAMA"
For the "Epal lng ang tinawag s kanya iyak na? C PRRD nga sandamakmak ang tawag s kanya tinatawanan nya lang.. Sasabihan ka lang SO?.. I DON'T CARE!.. hahaha"
According to the PEP article posted sometime in 2020, Yorme Isko Moreno broke down in tears while defending himself from a certain Atty. Tajar who called him "maepal" on social media.
It appeared that Yorme Isko earned the ire of Atty. Tajar, a human rights lawyer, for running after street vendors in Manila in line with the city's road clearing operation and also for his threat to have vandals lick the graffitis in Lagunislad underpass if caught.
Atty. Tajar lamented that Yorme was quick to invoke people to follow the law and yet it is okay for him to violate the law.
Atty. Tajar cited Section 90 of RA 7160 of the Local Government Code which prohibited elected government officials to practice their profession.
Exhibit A. Atty. Tajar cited Yorme Isko's huge billboards in EDSA as product endorser, a clear violation of RA 7160, prohibits Mayors like him to practice his profession while in office.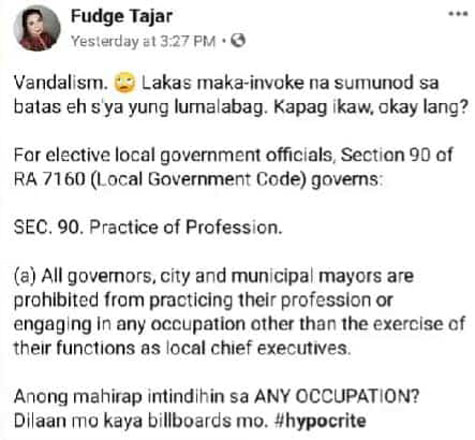 You may visit article by clicking link here for more details and context.
Reaction?
Source: Edwin Jamora