Finally! The Japanese style of public service has arrived in the Philippines during typhoons and natural disasters, at least in Marikina City for now.
In case you missed it, photos showing how the evacuation centers in Marikina look like has been keeping netizens buzzing online and drawing words of praises on social media.
The Facebook page "Miriam Santiago lines" uploaded the photos today, August 12, 2018 at around 1AM to share the unbelievable sight of neatly-arranged modular tents serving as temporary shelters of the local residents of Marikina while the city has been inundated with flood waters.
The awe-inspiring photos from the Marikina evacuation centers has been a hit among social media people, evoking images of the Japanese evacuation centers that flooded social media in recent memory.
As of this writing, the Facebook post has 10,867 shares, 23,169 reactions and 824 comments and counting.
Let us read the comments below and see how netizens react to the welcome development in Marikina City.
Mary Joy Ardeno Villafranca Ang galing..first time ko makakita ng ganitong klase evacution center well organize..
Eloisa Sta Teresa Sobrang nice ng ganito
Diane Miguel-Padilla wow.. hindi sana right term, DAPAT, ganito ka-organized ang lahat ng evacuation center sa buong pilipinas..
Netizens hoped other cities would soon take the lead from Marikina.
Marilou Marzo Torres Ang galing po dapat tularan po ng Ibang lugar , malaki malasakit sa mga Tao ng local government Nila pag Oras ng ganutong sakuna
Mariza Magsino woow! this amazed me. sana gayahin ng ibang local government body na prone s flooding. nakakahappy somehow.
Trisha Magbayao sana lahat nang mga evacuation centers ganito…ang galing nang nakaisip nito…go marikina! 👍🏻👍🏻👍🏻
Netizens say photos remind them of Japanese evacuation centers.
Ricky Molera Nakakagulat lang, sa japan lang ako nakakakita ng evac shelter na ganto. Ngayon meron na sa pinas. Thumbs up to.
Vienna Ong sumasabay na sa japan
Winelma Redija Canete Wow! Very organize & safe. I've not seen this in previous administration. Well done DU30.
Ronald Roa Mendoza Just like in japan. Nice one
Marycon De Guzman Capacio akala ko sa japan 😊
One netizen credited Pres. Duterte for the tents and she was quickly rebuffed by netizens who called Marikina their homes.
Winelma Redija Canete Wow! Very organize & safe. I've not seen this in previous administration. Well done DU30.
Mary Ann Vargas I'm a pro duterte but this is not done by them. This is initiated by the City Government of Marikina under Mayor Marcy Teodoro #Marikeño
Carmie Adane Bakit kay Pres.DU3O agad ang credit.? Db pede si Mayor? Good job sa Mayor ng Marikina
Veronica Estanislao Haha, Hindi c d30 Gumawa nyan kakayahan po ng Mayor & Vice Mayor ng Marikina @ ng taong bayan ng Marikina😎Good Job Marikina People, Thank you
Kris Xernan Pasaoa Well done duterte daw ,,,, sabi na may mag ccoment nang ganya . hahaha, alam nyo na mga kababayang pilipino, ang utak nang mga dutertards, credit grabbing, picture editing, misinformation at kabobohan ang nalalaman.
This photo of a Japanese evacuation center has gone viral in the past and obviously has set the bar higher on how politicians in the Philippines should serve their people in times of natual calamities.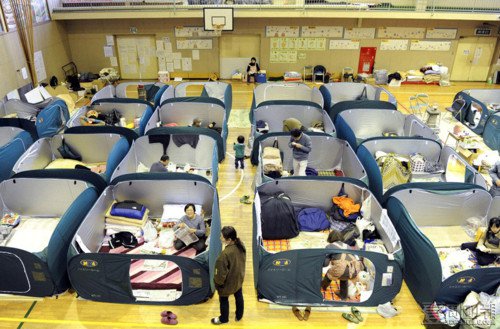 Your thoughts?
Source: