Compared to the massive BBM-Sara campaign rally in Cebu recently wherein an estimated 300,000 people attended, the Leni-Kiko Ceboom 2.0 rally yesterday was a huge letdown for the Leni camp, crowd wise.
Manila Bulletin writer Krizette Laureta Chu put forward her own theory in a latest Facebook post to explain the failure of the Leni-Kiko camp to top the crowd of the BBM-Sara Cebu rally.
Basically, Chu said Cebuanos aren't easily impressed with celebrities hence the low turnout of the crowd.
As in Cebuanos won't go the extra mile just to listen a band or see a celebrity, Chu added.
In other words, the huge come-on of Leni-Kiko rallies are the free concert and celebrities didn't excite the Cebuanos.
That's explain the dismal crowd who went to listen to Leni-Kiko campaign pitches, Chu remarked.
In the wake of the massive BBM-Sara rally, Chu stated, this is the so-called dagger in the heart of LP.
Chu ended the FB post with the conclusion that the failure of Leni-Kiko to win the hearts of the Cebuanos is the final gavel of judgment.
As some political analyst say, you didn't win Cebu, you cannot claim Cebu. Ergo, Cebu isn't pink.
You may now read Krizette Chu's original FB post below.
I think one of the bigger reasons konti lang ang tao sa Cebu rally ni Leni-Kiko is hindi mabilis ma impress sa artista ang mga Cebuano.
As in they won't go great lengths just to hear a band or see a celebrity.
So a big part of the come-on of Leni's rallies—the concert and the celebrities—didn't appeal to the Cebuanos.
So ayan 50k at most lang daw sabi ng police. Ilan pa dyan yung galing Manila at ilan pinilit daw ng schools as per leaked memos.
In the heels of the massive Bbm-Sara rally, this is a knife in the heart of LP.
Maybe it is the final gavel of judgement. You didn't win Cebu. You cannot claim Cebu.
Cebu isn't pink.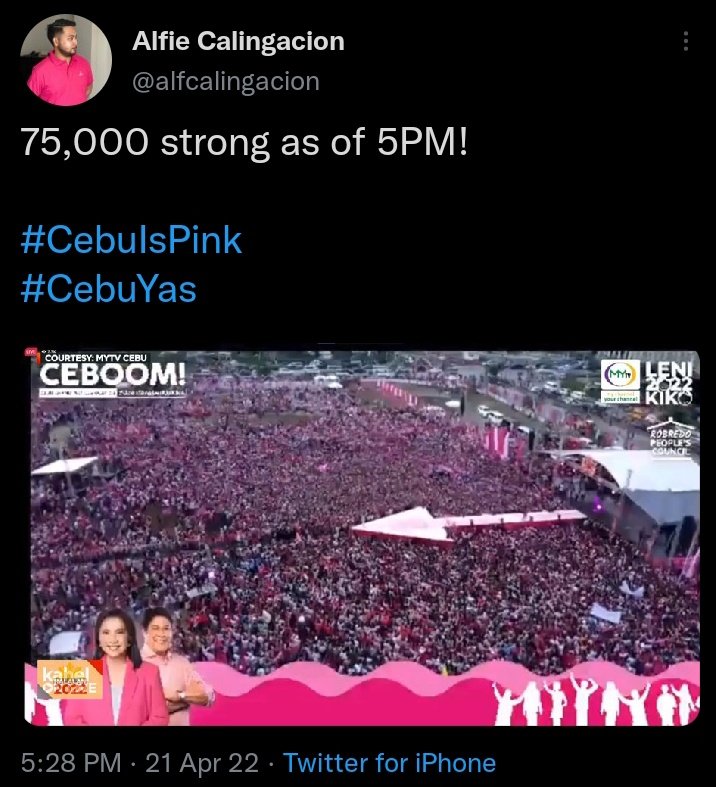 LOOK: Aerial shots of the crowd in the 8-hour BBM-Sara UniTeam grand rally in Cebu City; organizers pegged the in-and-out crowd at 400,000 #BilangPilipino2022 @PhilippineStar

📸 BBM media bureau pic.twitter.com/43t2h0bxMs

— Edu Punay (@edupunay) April 18, 2022
Reaction?
Source: Krizette Laureta Chu