Judy Ann Santos-Agoncillo shared a photo of her giving a bagful of white onions a melodramatic hug because according to the actress she needed the white onion more than the white onion needed her, she will hug it and savor the moment before cooking it.
Juday said it is important to savor her white onion because she bought it at P550 a kilo.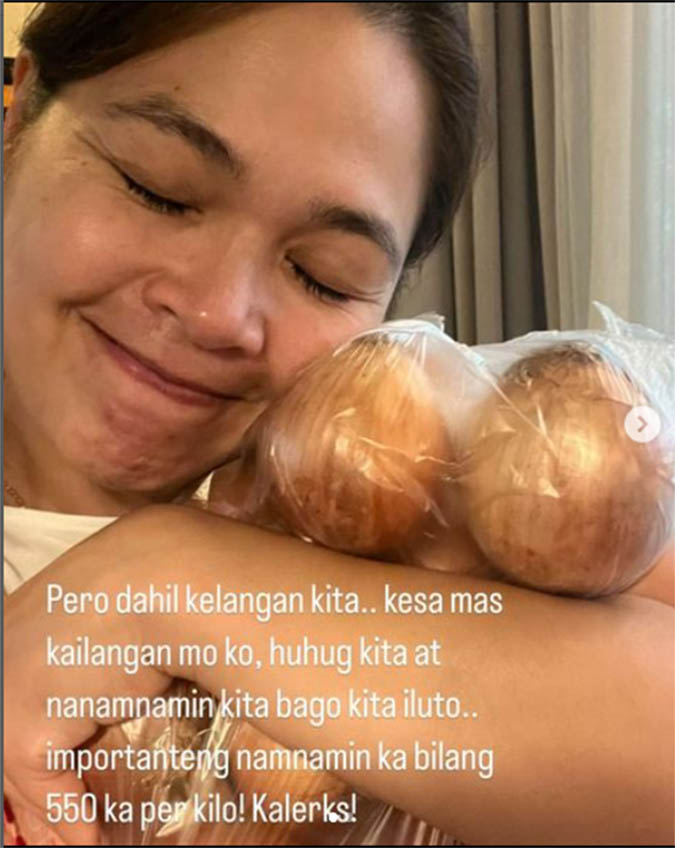 Juday's social media post did not fail to elicit the reaction of netizens, including Manila Bulletin writer Krizette Laureta Chu who dedicated an FB post for that purpose.
In the said FB post, Ms. Chu asked her FB followers if white onions are really different? She wanted to know why Judy Ann Santos-Agoncillo's white onion was price at P550 a kilo?
Turned out, Ms. Chu did ask because when she checked the price of white onion at Shopwise and Pickaroo, the white onions are priced P110 and P295 per kilo respectively. Ms. Chu asked in jest whether Cherry Pie Picache and Juday's white onion are embedded with gold? Does it make the consumer more beautiful? What's the difference? Ms. Chu asked.
Chu's appeal for explanation why Juday and Cherry Pie's white onions are priced at P550 while the ones she discovered are way cheaper have elicited witty responses from her FB followers.
One netizen joked that Juday's white onions do not make her cry when she slices it.
Kaya mahal yung white onion ni judy hindi nakakaiyak pag hinihiwa.
Another netizen joked that Juday's white onions are enriched with vitamins from A to Zinc.
Enriched with vitamins from A to Zinc na po kasi yung sa kanila. Rare breed.
Another commented that Juday's white onions are gluta-enriched hence it is whiter than what common folks buy.
May gluta, kaya mas maputi yung white onion nila
Meanwhile, this netizen offers a different theory, a serious one at that.
Looks like those two actresses were only intending to put malice in the situation para siraan lang ang BBM presidency. Tsk. Sana sila na lang ang masira ang isip.
You may now read Ms. Chu's original FB post below.
Iba Iba ba ang white onion? Bakit yung white onion ni Judy Ann Santos is 550 per kilo. Pero dito sa Shopwise at Rustans Marketplace thru the app Pickaroo eh 110 pesos at 295 pesos ang kilo? May gold ba ang white onion ni Judah at Cherry Pie Picache? Nakakaganda ba? Anong difference?
Reaction?