Remember the two students who touched the hearts of netizens when a video of them crossing river using a tight rope bridge went viral after their teacher posted it on Facebook?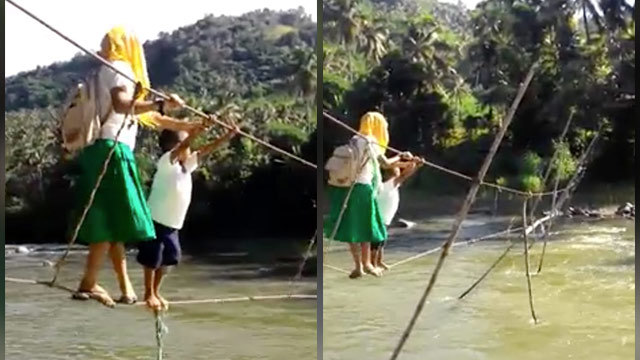 On Facebook, Sec. Mark Villar of the DPWH reported to the netizens that the construction of the hanging bridge that would replace the old tight rope bridge is almost finished.
"Last December, we watched a video posted on Facebook by Yasmin Mangorsi which shows a young boy and his sister struggling to cross a river using a tight rope bridge in Barangay Lanipao, Iligan. Happy to report that the bridge is almost complete," the hardworking DPWH Secretayr wrote.
Below is the on-going construction of a hanging bridge that would replace the rickety 'rope bridge' used by school children in crossing the raging river and go to school.
If you've missed the video that moved thousands of netizens to tears, you may watch it now.
I hope the government or anybody from this country can do something about this.
Gma Iligan
G'TUM, BRGY. LANIPAO, ILIGAN CITY

Posted by Yachmin Mangorsi on Sunday, November 13, 2016
As of this writing, the post has garnered 2604 shares, 846 comments and 26,332 reactions in Facebook and counting.
Netizens welcome the good news from Sec. Mark Villar and lauded the Duterte government for the quick action.
Wilmar John Mariano wrote: Secretary Villar..you and all the cabinet members along with our very own President Duterte were the epitome of Real Public Servant…proud of you guys…
Nej Amsen wrote: Yan ang man of action di katulad ng iba puro dakdak at presscon…..Please Sec. Mark Villar continue posting projects being undertaken or already finished by your department so the people especially the bleeding hearts will know that the administration is really committed in delivering the best service to this country…..our votes for president duterte are not wasted….mamatay kayo sa inis mga bleeding hearts……
Tan Lee wrote: Job Well Done!!! God bless you Secretary Mark Villar and the DUTERTE ADMINISTRATION for doing your best in answering the needs of the Filipino people. The Administration in ACTION!!!
Some netizens took the opportunity to reach out to Sec. Villar about their own problem in their localities, hoping a speedy action from the national government since their local officials are sitting on it.
Noel Macdon wrote: Sec. Mark Villar, alam ko po sobrang busy nyo, sana po mabigyan din ng pansin ang tulay sa Tigwi, Torrijos Marinduque, na send ko na po sa Inbox nyo ang details..lampas isang taon na po ang project pero naka tengga pa rin, residente po ako ng kalapit barangay ng tigwi, ang problema pag umuulan at malakas ang baha, hindi kami makadaan.. Maraming salamat po in advance. More power.