On July 17, 2018, Senator Risa Hontiveros posted a photo of South Africa's first black president Nelson Mandela on Twitter, inscribed with an inspiring message, "It always seems impossible until it's done."
Hontiveros posted the Mandela photo a day ahead of the birthday of the late South African leader who ended the apartheid in South Africa after several years of struggle, including 27 years in jail.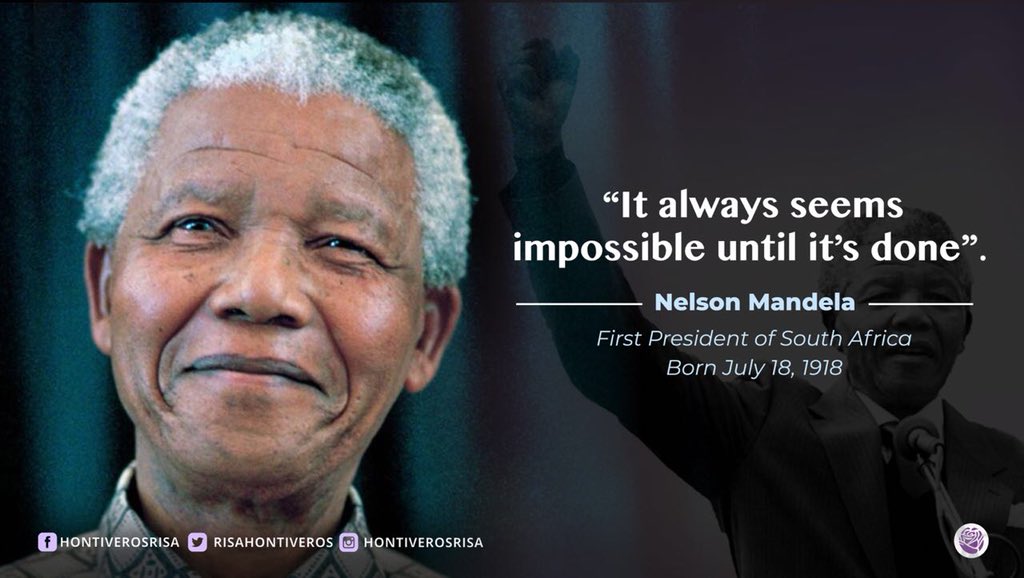 True to her form, Hontiveros hijacked Mandela's birthday by using it as an opportunity to galvanize the youth against the Duterte administration with the hashtag "#TakeBackDemocracy!"
Dear young people, #TakeBackDemocracy!
Dear young people, #TakeBackDemocracy! ✊🏼 pic.twitter.com/k0ErsUUIOg

— risa hontiveros (@risahontiveros) July 18, 2018
But to Hontiveros's dismay, netizens responded with mocking remarks to her "#TakeBackDemocracy!" hashtag. One twitter user even replied with her own derisive hashtag "#TakeBackPhilhealthFunds👊🏽".
— Joyce Colendrino (@jcmanila) July 19, 2018
Blogger MJ Reyes slaps Hontiveros with the painful truth that democracy is very much alive, not taken away from citizens as Hontiveros' tweet implied because her yakking on Twitter is solid proof democracy isn't dead but very much alive.
Your endless yakking proves how democracy is very much alive.

Madam, LP isn't synonymous to Democracy. LP has no monopoly of truth & good intention.

Sigh… Will the high&mighty 2% ever understand what I just said, more-so respect the position of the 88%?

— Mj Reyes (@maanreyes) July 19, 2018
Netizen James Mamaril @james_mamaril asked Hontiveros if Duterte had dissolved the both houses of Congress, the Supreme Court for saying "take back democracy".
"Take back democracy"? Bakit Risa? Na dissolve na ba ni Duterte ang Upper House at Lower House? Dissolved na din ba ang Supreme Court? Ilang gramong shabu ba ang tinira mo today? My gad!

— James Mamaril (@james_mamaril) July 19, 2018
Reynaldo M. Juico 🇵🇭 @reyjuico described Hontiveros' tweet OA and asked, "why take something you already have?" He went on to raise the anomalies of Philhealth which public believed the senator has something to do with it.
OA. Why take back something you already have? The same being enjoyed by us? Tigilan mo na ang panguuto. Young people are smarter than you could ever conceive. Pero wala ka ba talagang accountability na nalipat ang Philhealth fund sa iba, ikaw na isa sa BoD hindi mo alam?

— Reynaldo M. Juico 🇵🇭 (@reyjuico) July 19, 2018
Arvie Mabute @arvie_mabute remarked that Hontiveros is the most stupid and dumbest senator, demand Hontiveros to return Philhealth funds and asked why the senator is silent on dengvaxia.
Pinaka BOBA AT GARAPAL NA SENADOR!!
BALIK MO NA PONDO NG PHILHEALTH DI MO MADADALA YANG MGA NINAKAW MO PAG NAMATAY KA?..MAHIYA KA NMN SA PINAPAKAIN MO SA MGA ANAK MO!!
BAT SA DENGVAXIA WALA KANG KIBO???
KAYO PUMATAY SA DEMOKRASYA!!!

— Arvie Mabute (@arvie_mabute) July 19, 2018
Netizen Mary Chris Cabante @MaricrisDec09 tells Hontiveros to move on and stop crying wolf and democracy is very much alive like what she's doing on Twitter.
So what you did now Hontiveros? Is it not democracy you were saying? The freedom of speech? The freedom of expression you did! Wow!Democracy. Move on. And accept the reality that Philippines is moving forward for the better. Filipinos are very optimistic under President Duterte

— Mary Chris Cabante (@MaricrisDec09) July 19, 2018
Your reaction?