A photo of a clean and vendor-free sidewalk in Alabang, Muntinlupa left many netizens in awe and created a stir online.
In a Facebook post, netizen John Paul Ampongan shared the photo of an unusually clean and vendor-free sidewalk in Alabang, Muntinlupa and wrote a caption that reads:
This is alabang now. Pwede Naman pala alisin ang mga vendors. 10 years living here only now this was cleansed. Now I believe in President Duterte.
The photo has generated more than 500 shares since it was posted 17 hours ago and continues to draw positive reactions from netizens.
Let us check out a sample of the comments of netizens.
Alexander Mendoza wrote:
Unti unti makikita ng lhat na si PDU30 lamang ang kailangan natin , at sa pg kakaisa at pag kaka.desiplina.ng ating mga kababayan. Ang ayang magbabalik sa ating bayan ng likaa na kagandahan.
Suporta ang kailangan ng ating pangulo pra sa tunay na pagbabago
Rose Valencia Diaz wrote:
Wow ang linis at ang luwag na .
Jenny Mar Samiana wrote:
i've been there 2 yrs ago….. hnd ganyan ka linis …..galing ng mayor nmin……. good job..
Darwin Gatpatan wrote:
kung di dahil sa kanya di ma linis ang alabang at lalo na ang palingke
Jhaz Malol wrote:
Wow ang galing… pinoy nga tyo dapat na mag kaisa sa ikakaunlad ng PILIPINAS
Mike Angelo wrote:
Oo nga no sa ibang presidente 6 years nagawa ba nila yan wala dba pero najakapagtaka meron pa din ayaw k digong alam na mga tulak adik mga yun at corrupt cguro.
Iap Dumaque wrote:
Yan ang president nmin mautak d katulad sa dati.
By the way, here's a photo of Alabang before the local government swooped down the sidewalks and did a clean up.
The viral photo inspired an FB Page to concoct a story which many netizens readily believed.
Du30 rode his motorcycle with a helmet around Muntinlupa to inspect the traffic situation. He saw that there were a lot of vendors causing the traffic in Muntinlupa market. He rode his motorcycle straight to the office of Fresnedi and the guard at the Mayors office didn't allow him to enter kasi he had his helmet on. When he took off his helmet, all his bodyguards started to surround him and Mayor Fresnedi immediately stepped out of his office to welcome Digong. Digong told Fresnedi he wanted all the vendors out of the streets and inside the market selling area. The last 2 days, no traffic and extremely peaceful to walk around the market area. People didn't complain.
To make the story believable, the Facebook page Balitang Kalye even posted a photo of President Duterte riding his favorite motorcycle.
However, a quick google search revealed that the photo was a hoax. It was a screenshot of the video documentary "Motorcycle Diaries" hosted by Jay Taruc of GMA News TV.
But another website claimed Presidente Duterte indeed toured around the Alabang area and made a surprise visit. You may check it here.
It is unimportant whether the story doing the rounds online about President Duterte and the Muntinlupa Mayor is true. The important thing is that, some local execs are now trying to impress the President by cleaning up their area of responsibility.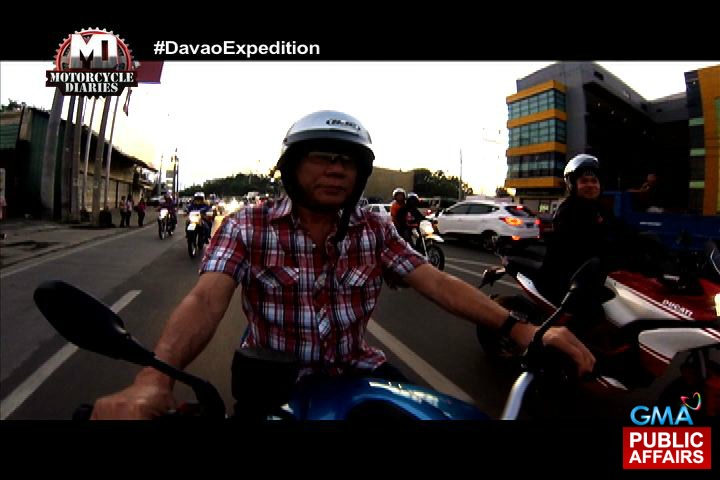 Please feel free to comment below.
Source: John Paul Ampongan